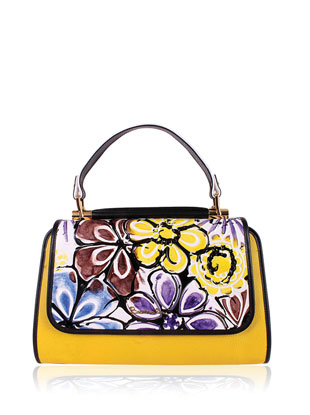 Braccialini SRL was founded in 1954 by Roberto and Carla Braccialini. Originally during the 50's and 60's it was a creative artisan workshop creating bags made in straw with leather trim, floral applique and embroidery in bright colours.
Worldwide has more than 37 mono brands stores and more than 50 Shops in Shops.
For over 60 years, Braccialini handbags have been synonymous with distinctive style, originality and high-level craftsmanship the world over. Born in Florence, Italy the luxury leather brand was launched by Carla and Roberto Braccialini in 1954.
This historical handbag brand is distinguished by being wonderfully colourful: clutches, totes and tomato-embroidered wallets are imbued with a clear sense of fun. Fresh and artistic designs with a lot of patch work and craftsmanship,
Products :
Braccialini, Tua, Francesco Biasia, Gherardini, Looney Tunes (Warner Bros.), Vivienne Westwoodi and Tua.
Website : www.braccialini.it